I occasionally like to be able to hold actual prints of my photos in my hands so I can look at them when not at the computer. We create an annual photo book of our family's adventures, and I also give photo year books to my kids as Christmas presents each year. And every late October or so, we haul everyone out to the park with our friends to attempt our annual Christmas picture, so we can share our goings-on with our family and friends.
This year, a friend hosted a photobook party and, in addition to a free
photobook
(I'll have to write another post about how much I liked their templates
and the ease of creating the book!), we were given a coupon for 5 free folded photo cards from Shutterfly.com. I decided to look them up to see what their
selection
is like and found several that I really liked.
I particularly liked the freedom of being able to choose from several templates within each card. My favorite card(obviously) is posted below, and I cannot wait to receive them in the mail!
The great thing about a place like Shutterfly is that they have lots of different projects from which to choose. I make a
calendar
for our parents each Christmas, and though I usually opt to print mine at home, I have used a print service like this before. They are very professionally done and make great gifts. I have been pondering creating some
wall art
with some of my photos on this site (just because they make me happy :) ), so it has been fun to "shop" around and look at what they offer.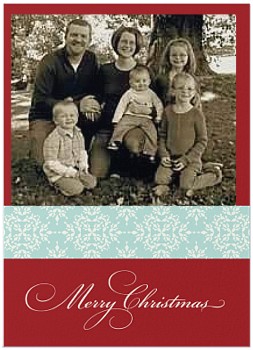 Snow Angels Christmas 5x7 folded card
View the entire collection of cards.



(In all fairness, I am posting these cards in an attempt to procure more of these fun cards to mail out to our friends and family this year. See their site about this promotion:
http://bit.ly/sfly2010
)